Why the By-Election is very tough for Congress & BJP 
2019 election booth wise results give crucial insights into why this election is very tough for opposition parties Congress & BJP.
TRS performed very well in the 2019 elections by keeping stronghold in 257 booths.
BJP shows some impact in the Narsingi division of Dubbak.
Congress party performance was limited to just 60 booths where it got 2nd position.
There were almost 50-60 booths where the margin between BJP and Congress was narrow.
In 2019, Raghu Nandan Rao has contested as an MP candidate from the Medak MP constituency. Dubbak is also a part of the same Medak parliament constituency.
He secured 29546 votes from the same division. However, in the 2018 dubbak assembly elections, he got 3rd position with 22, 595 votes.
Usually, the ruling party performs very well in by-elections. Kurnool by-election in Andhra Pradesh state is a perfect case study to be analyzed where the results were reversed in the 2019 assembly elections.
The combined vote share of BJP + Congress never crossed 36% since 2014.
The combined vote share of BJP + Congress never crossed 30% in the last ( 2018 MP, 2018 assembly & 2019 MP) three elections.
Most likely, 2019 results to be replicated with minor changes in vote sharing between BJP & Congress.
Our analysis has based on in-depth research on various election results of the Dubbak division since 2014. We affirm that we did not do any field-level research.
Parties Performance in Dubbak Boothwise – 2019 election results 
Parties

2019

1st position

2nd position

3rd position

TRS

257

4

0

Congress

0

60

201

BJP

4

197 

60
Dubbak/Dubbaka segment results – 2019 parliament elections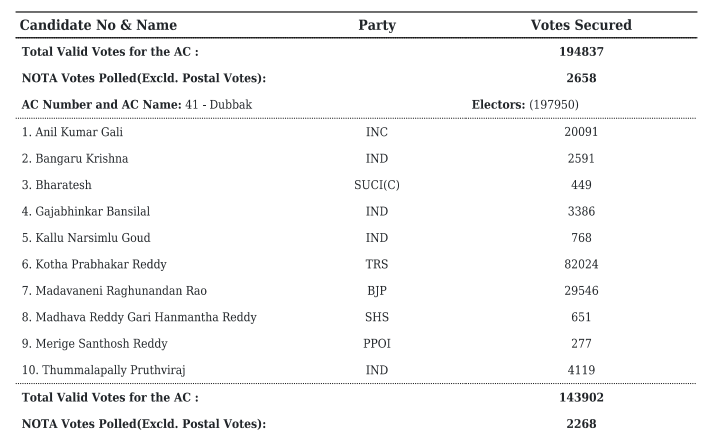 Article Last Updated: September 20th, 2020